Welcome to webCDwriter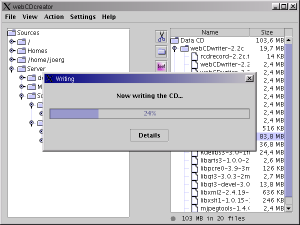 webCDwriter can be used to make the CD- and DVD-writer(s) connected to a Linux box available to all users in your network. It consists of the server CDWserver and the clients webCDcreator and rcdrecord. CDWserver stores the files transmitted by the clients, reserves the CD-writer and controls the CD-writer using cdrecord. webCDcreator is a Java applet that runs within your browser, assists you when putting together a CD and transmits the files. Try it!
Finally rcdrecord is a command line client that tries to offer the functionality of cdrecord over the network (not complete yet). In addition to this there are several extensions like using MP3s for audio CDs and adding files to a data CD made easy by the command files2cd.
News
more...
Highlights
multi user support
the client webCDcreator can run as a JavaTM Web Start application or as an applet within your browser
fully web-based - no installation on the clients
supports data CDs, audio CDs and multisession
use the image of a bootable floppy to make a bootable CD for PCs
the ISO image of data CDs is created while burning (saves time and disk space)
MP3 decoding for audio CDs using mpg123
multi writer support (connected to the same server) burning independent sessions
export of server directories
verifying the CD after writing it (optional)
copying a data CD in a CD-ROM drive on the server "on the fly" to the CD-writer
user accounts
upload the files from one machine and burn them by another one
command line client rcdrecord
Internationalization:

Catalan, Chinese, Dutch, English, French, German, Hungarian, Italian, Korean, Norwegian, Polish, Portuguese, Russian, Slovenian, Spanish and Swedish messages in webCDcreator
If you get empty boxes instead of the characters, try to modify your font.properties file.
Note: Chinese and Korean support is still experimental. I need feedback on this!

RPM packages available for Red Hat Linux, SuSE Linux, and Mandrake Linux
protection against writing files of different users to one medium
status output while waiting for a writer
link the files that are already on the server instead of copying them
use all writers available to burn several copies of a project
DVD+R/+RW/-R/-RW support by running Andy Polyakov's excellent dvd+rw-tools
Requirements
the server was tested on Mandrake Linux 9.0
at least 800 MB of free disk space on the server for one session
one of
Known Problems
mkisofs sometimes fails to build an image
Netscape fails to run webCDcreator on Mac OS
webCDwriter requires cdrecord-1.10 if used on Linux kernel 2.4
mpg321-0.1.5 (Red Hat Linux 7.2) runs into an endless loop
Future Plans
perhaps a MD5 based backup system